10 Days Shiatsu Course
This Shiatsu Course will give you all the theoretical and practical skills required to perform a treatment for your clients friends and family.
Price: $1260.00
Combine this course with the 5 Days A-Shiatsu and enjoy a 10% discount for further information.
For flexible dates contact us at info@balibisa.com

Saturday and Sunday time to enjoy all the splendors Bali has to offer
"The Island of the Gods"  
Who is it for:
Students aiming to become professional Spa therapists. Novice Students want to learn for fun. Professional Spa therapists wanting to add to their portfolio of skills and add CPD hours (Continued Professional Development) No previous experience necessary.
Price includes:
Coffee, tea, or water
Training Manual
60+mins Training Video
Clients for your practical sessions
All required products and Equipment
Exams: Theory & Practical
Bali BISA Certificate
Accommodation and Airport pick up available on request
Contact us for more information
Read more about Shiatsu Massage
Expand/Collapse this section

The first documented data is over 2500 years old and is rooted in the principles of self-massage and self-applied pressure point therapy, and is used for healing, purification, detoxification, and stimulating energy. This approach gradually became an integral part of the existing health practices and spread along with other Chinese healing arts throughout Southeast Asia.
Among these arts was the ancient "Massage and Point pressing" known as Anma, and practised in many cases by the blind, due to their extraordinary sense of "feeling through touching". Amma (Anma in Japanese) has been used for centuries to deal with many common ailments, aches and pains as well as treating more serious "diseases". New influences from traditional Eastern medicine and Western science have gradually shaped it into what is today called Shiatsu. Shiatsu is a Japanese word meaning "finger pressure". "Finger (shi) and pressure (atsu)". Shiatsu uses few techniques and to an observer, it would appear that little is happening. It is a relaxed pressure at various points on the body with the hand or thumb, an easy leaning of the elbows or a simple rotation of a limb. It almost seems like a lazy activity. Shiatsu uses these techniques to adjust the body's physical structure and its natural inner energies, to help prevent illness, and maintain good health.
Benefit of Shiatsu Massage
Expand/Collapse this section
Stimulates the lymphatic system
Improved immune system
Regulates the activity of the autonomic nervous system
Relaxed muscles and improved circulation
Relieve muscle pain
Relieves stress and anxiety
Calming the nervous system.
Digestive disorders
Headache
Insomnia
Constipation
Hypertension
Menstrual cramps or irregularities
As you can see this is a very powerful modality when learnt properly
What you will learn
Expand/Collapse this section
The theory of shiatsu
The essence of shiatsu
The philosophy of Shiatsu
The meridians
Basic rules when practicing shiatsu
Chakras
Acupuncture Points
Health and safety.
Client care, communication and preparation.
Contra-Indications
Massage techniques and application.
Aftercare
Career paths:  Health & Wellness, Medical Centers,  Cruise Ships,
Progression
CIBTAC Endorsed Shiatsu Program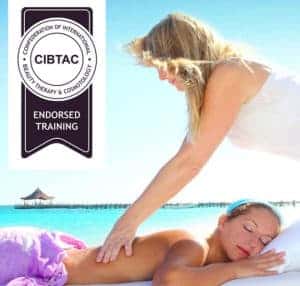 Learn more about CIBTAC Endorsed