5 Days Hawaiian Lomi Lomi Course
This Hawaiian Lomi Lomi Course will give you all the theoretical and practical skills required to perform a treatment for your clients friends and family.
Price: $630.00
Combine this course with the  5 days Bamboo Massage Course and enjoy a 10% discount for further information.
For flexible dates contact us at info@balibisa.com

Saturday and Sunday time to enjoy all the splendors Bali has to offer
"The Island of the Gods"  
Who is it for:
Students aiming to become professional Spa therapists. Novice Students want to learn for fun. Professional Spa therapists wanting to add to their portfolio of skills and add CPD hours (Continued Professional Development) No previous experience necessary.
Price includes:
Coffee, tea, or water
Training Manual
60+mins Training Video
Clients for your practical sessions
All required products and Equipment
Exams: Theory & Practical
Bali BISA Certificate
Accommodation and Airport pick up available on request
Contact us for more information
Read more about Hawaiian Lomi Lomi Massage
Expand/Collapse this section
The early Polynesian settlers brought their own form of massage and like a canoe plant, it evolved to become something uniquely Hawaiian. It was practiced by everyone, from child to chief.
Hawaiian Lomi Lomi was kept secret within families for most of its history until Kahuna (AUNTY) Margaret Machado decided to teach anyone who wanted to learn "the loving touch". She believed "Lomi Lomi is the art of giving LOVING TOUCH.
Lomi Lomi has been described as similar to a nurturing, slow flow wave given its hypnotic use of the hand, arm and elbow for the release of tension. It is an intense modality as the mental attitude is just as important as mastering the sequencing. It is very much rooted in Hawaii's aloha mentality where spirituality and balanced emotions affect the outcome of this bodywork. Lomi Lomi is popping up more and more at day and destination spas globally because of this deep holistic connection.
It is one of the most popular courses at the Bali International Spa Academy and massage school due to its rising popularity among spa-goers.
Benefit of Hawaiian Lomi Lomi
Expand/Collapse this section
Nowadays, almost everyone suffers from stress and tension. Stress itself isn't anything negative, because it is a natural mechanism for stimulating actions. However, when it remains for too long with no way of letting go, then the problems begin in the form of physical and psychosomatic diseases such as insomnia, pain in the spine and joints, headache, neurosis, depression, and heart failure.
Below are positive benefits to help relieve stress or tension:
Revitalizes
Supports the metabolism and detox
Stimulates and strengthens; the circulatory,  digestive, lymphatic, skeletal, and nervous system
Strengthens and tones the joints
Relaxes and softens deeper layers of tissue
Unlocks the tight muscles and releases the energy flow
Restores lightness and body awareness
Helps fears, anxieties and stress
Brings back the balance, harmony and clearance of thinking
Awakens inner power and joy;
Restores the balance between the body, mind and spirit;
People consciously working with energies experience more clearly and deeply the beneficial effects of the therapy. The therapist and the client are able to feel the flow of energy.
What you will learn
Expand/Collapse this section
Health and safety.
Client care, communication and preparation.
Contra-Indications
Lomi Lomi  techniques and application.
Aftercare
Career paths:  Health & Wellness, Spa's  Cruise Ships,
Progression
CIBTAC Endorsed Hawaiian Lomi Lomi Massage Course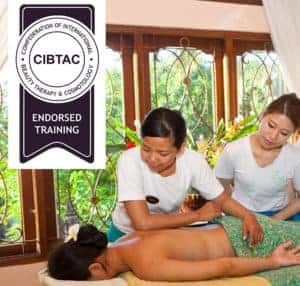 Learn more about CIBTAC Endorsed