5 Days Thai Massage & Herbal Packs Course
This Thai Massage & Herbal Packs Course will give you all the theoretical and practical skills required to perform a treatment for your clients  friends and family.
Price: $630.00
Combine this course with the Thai  Foot Stick Massage Course and enjoy a 10% discount for further information.
Schedule: Monday to Friday, 9:00am-4:00pm 
Flexible dates contact us at info@balibisa.com
Saturday and Sunday time to enjoy all the splendors' Bali has to offer
"The island of the Gods"  
Who is it for:
Students aiming to becoming professional Spa therapists. Novice Students wanting to learn for fun. Professional Spa therapists wanting to add to their portfolio of skills and adding CPD hours (Continued Professional Development) No previous experience necessary.
Price includes:
Coffee, tea or water
Training Manual
60 +mins Training Video
Clients for your practical sessions
All required products and Equipment
Bali BISA Certificate
Accommodation and Airport pick up available on request
Contact us for more information
Read more about Thai Massage
Expand/Collapse this section
Practiced in Thailand for over 2,500 years, Traditional Thai massage has been influenced by the traditional medicine systems of India, China and South East Asia. It is considered an ancient healing system with its roots in Yoga, (sometimes called the lazy mans yoga)  Ayurvedic medicine and Buddhist spiritual practice. Combined into this healing therapy is also the practice of mindfulness, awareness, loving kindness, and compassion. Thai Massage system focuses on vital energy circulation within the body. Thai Massage in one of the branches of Thai Traditional Medicine (TTM) Today it is considered a medical discipline used for the treatment of a wide range of ailments.
THE SEN LINES It is believed the body consists of 72,000 pathways called Sen (energy lines) Ten of these lines are considered to be top priority. When these energy lines are stimulated with pressure points, blockages are broken down to increase energy flow and restore balance and harmony to the body
Benefit of Thai Massage
Expand/Collapse this section
Stimulates and balances all meridians in body
Energizing
Relaxing
Relieves muscle tension
Stretches muscles
Increases the blood circulation
What you will learn
Expand/Collapse this section
Health and safety
Client care, communication and preparation
Contra Indications
Product knowledge
Massage techniques and application
How to make and use the Herbal packs
Zen lines and Meridian lines
Aftercare
Career paths:  Health & Wellness, Cruise Ships,
Progression
CIBTAC Endorsed – Thai Program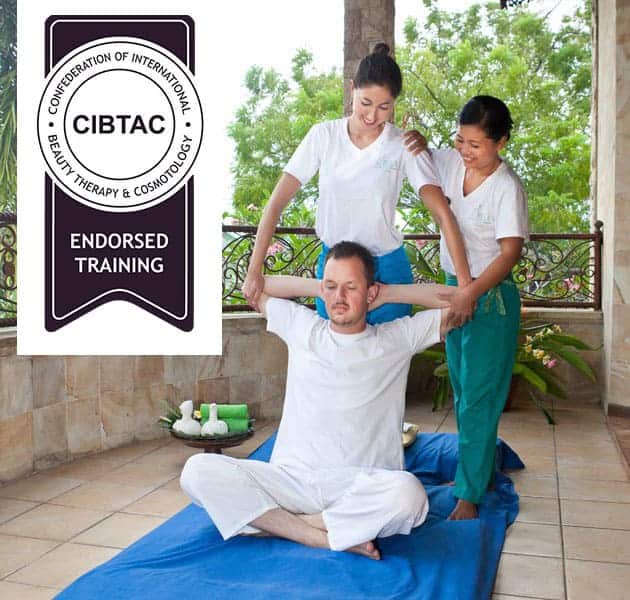 Learn more about CIBTAC Endorsed Courses