5 Days Pregnancy Massage Course
This Pregnancy Massage Course will give you all the theoretical and practical skills required to perform a treatment for your clients  friends and family.
Price: $600.00
Combine this course with the Post Natal Course or Baby Massage and enjoy a 10% discount for further information.
Schedule: Monday to Friday, 9:00am-4:00pm 
Flexible dates contact us at info@balibisa.com
Saturday and Sunday time to enjoy all the splendors' Bali has to offer
"The island of the Gods"  
Who is it for:
Students aiming to becoming professional Spa therapists. Novice Students wanting to learn for fun. Professional Spa therapists wanting to add to their portfolio of skills and adding CPD hours (Continued Professional Development) No previous experience necessary. Wellness professionals who want to incorporate maternity care into their portfolio.
Price includes:
Coffee, tea or water
Training Manual
Clients for your practical sessions
All required equipment and products
Bali BISA Certificate
Accommodation and Airport pick up available on request
Contact us for more information
Read more about Pregnancy Massage
Expand/Collapse this section
Learn how to perform a therapeutic pregnancy massage as part of a comprehensive Bali International Spa Academy (BISA) or CIBTAC Endorsed program or on its own for 5 days. This is an excellent way to become a maternity care expert in spas, wellness centres, medical spas or hospitals.
Historically, touch and massage were a central component of maternity care across all cultures. In the absence of obstetrical tools, gadgets and modern medicine, a maternity carer had only their eyes, ears and hands to diagnose and assist women during pregnancy and childbirth. This hands-on approach to care is just as valid today as it is easy to implement, and very complementary to any medical considerations and required treatments.
During pregnancy, women suffer from all sorts of ailments, including heartburn, backaches, swollen ankles, aching muscles, breast soreness and fatigue. Traditional medicine offers few means of alleviating these problems. Also, women may feel increased stress due to the psychological effects of pregnancy, which include changes in body image, concerns about the baby's health, and the challenge associated with this life-changing event.
Through simple techniques, including the nerve stroke, effleurage, Petri sage, friction and tapotement most of these symptoms can be alleviated. You will learn how massage can relieve tension during pregnancy, help prepare for labor and make the postpartum period less difficult. During pregnancy, massage can safely, comfortably and effectively relieve the stress and discomforts of pregnancy.
The skills taught at Bali BISA spa and massage school are becoming more and more in demand as women are looking for natural pre-natal health care.
Benefit of Pregnancy Massage
Expand/Collapse this section
Relaxes and calms
Enhances comfort and well-being and mood
Increases circulation
Releases muscles, tendons and joints
Decreases pain/discomfort, especially back pain
Decreases stress and tension, both physical and mental
Increases mobility
Decreases blood pressure and anxiety
Increases lymph flow
Increases endorphins
Facilitates digestion and elimination
Helps prepare for an easier delivery with fewer complications
Self-massage to the perineum (area between the vagina and anus) increases flexibility and elasticity.
Massage stimulates glandular secretions, stabilizing hormonal levels and making their side effects less severe.
Massage on the legs can control varicose veins and the draining effect of massage helps reduction of oedema (swelling) of the arms and legs.
Increasing the general circulation increases blood flow to all areas of the body, including the placenta. This brings greater nutrition to the tissues of the body and enhances waste product removal.
'Lazy' red blood cells lining the vessel walls are reintroduced into circulation, thus increasing the red blood cell count. This is especially important to women with anaemia. The increase in the red blood cell count also helps to eliminate fatigue, as more oxygen-carrying haemoglobin is released into the bloodstream.
The strain on the muscles of the lower back, abdomen and shoulders can be greatly reduced through massage. This is especially helpful in the last trimester.
Muscle tone can increase with regular massage. Muscle spasms and knots are easily released, and muscles, ligaments, tendons and joints enjoy greater flexibility. This is especially helpful during labour.
Massage sedates the nervous system, producing much needed rest and relaxation. In the uterus, the baby feels the same way. Nerves are soothed and insomnia can be relieved.
What you will learn
Expand/Collapse this section
Health and safety
Knowledge of Ayurveda
Client care, communication and preparation
Contra Indications
Product and equipment required
Massage techniques and application
Aftercare
Career paths:  Health & Wellness, Spa's  Cruise Ships,
Progression:
   CIBTAC Endorsed – Maternity Program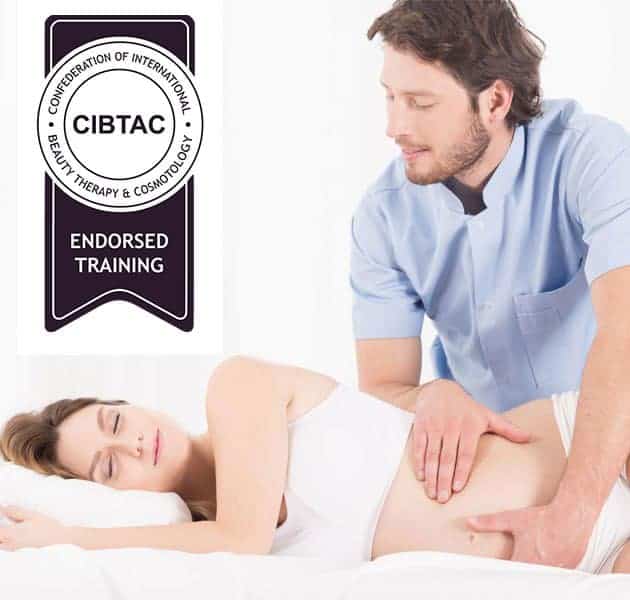 Learn more about CIBTAC Endorsed Courses