5 Days Post Natal Massage Course
This Post Natal Massage Course will give you all the theoretical and practical skills required to perform a treatment for your clients  friends and family. Wellness professionals who want to incorporate maternity care into their portfolio.
Price: $600.00
Combine this course with the Pregnancy massage or Baby Massage and enjoy a 10% discount for further information.
Schedule: Monday to Friday, 9:00am-4:00pm 
Flexible dates contact us at info@balibisa.com
Saturday and Sunday time to enjoy all the splendors Bali has to offer
"The island of the Gods"  
Who is it for:
Students aiming to becoming professional Spa therapists. Novice Students wanting to learn for fun. Professional Spa therapists wanting to add to their portfolio of skills and adding CPD hours (Continued Professional Development) No previous experience necessary. This Post Natal Massage Course  at the Bali International Spa Academy  is designed for spa and wellness professionals who want to incorporate maternity care into their portfolio. This maternity course incorporates the preparation of a Balinese herbal wrap and how to apply it to the mid-body section to speed up return to a pre-maternity figure.
Price includes:
Coffee, tea, or water
Training Manual
60+mins Training Video
Clients for your practical sessions
All required products and Equipment
Exams: Theory & Practical
Bali BISA Certificate
Accommodation and Airport pick up available on request
Contact us for more information
Read more about Post Natal Massage
Expand/Collapse this section
Around the world, caring for mothers after childbirth has traditionally been a matter of great importance. In many societies the traditions and skills of helping postnatal mothers is still handed down through the generations. Family and community work together to celebrate the birth and care for the mother so that she can relax, recover her strengthen and bond with her baby.
Globally, all these postnatal traditions have surprisingly many basic practices in common: all important ways of enriching the postnatal experience for the mother in order to help her recovery. The four main common practices are rest, massage, a healthy diet and social support. In many parts of Asia, women have long prebooked sessions with an Indonesian massage therapist for postnatal massage. The treatment is a traditional one which has been handed down over several generations. It involves the use of a massage oil applied to the stomach and a tummy wrap (bengkung), essentially a cotton cloth of several meters' length. The bengkung is used to wrap the body so as to push up the uterus, clearing water retention, wind and spasms. This shrinks the tummy and helps to reduce weight. A postnatal woman will benefit from any massage, especially from a neck, shoulder and back massage. Any areas of physical stress noted by the maternity carers will respond to touch and massage, reassuring, rebalancing and reaffirming the physical world as a new mother. This is a great way to relax the new mother and, as we all know, a relaxed mother helps a baby relax.
Benefit of Post Natal Massage
Expand/Collapse this section
Post natal massage helps the mother in many ways:
Physically, as the body is usually raw and tender after the strenuous exertion of labor and aids the healing of a cesarean section birth.
Emotionally, as the new mother is adjusting to the challenge of motherhood and the arrival of a new family member.
Eliminates toxins released during labor.
Eases muscle aches and pains that result from nursing and carrying the newborn.
Balances energy levels, and relieves emotional and physical stress.
Calms the nervous system, producing a renewed sense of body image and self esteem.
Helps restore the body to its pre-pregnancy condition.
Relaxation, Stress relief, Relieves aches on shoulders or neck, Hastens the reduction of fluid retention
Helps the uterus to shrink back to its original size
Reduces cellulite and helps to tone up the body.
Massage at the top of the chest and breasts may also be appreciated and could help with any congestion of the milk ducts. Traditional postnatal confinement gives the mother a chance to rest and recuperate after the trauma of pregnancy and delivery.
What you will learn
Expand/Collapse this section
Health and safety.
Knowledge of Ayurveda
Client care, communication and preparation.
Contra Indications
Product and equipment required.
Massage techniques and application.
Aftercare
Career paths:  Health & Wellness, Spa's  Cruise Ships,
Progression:
   CIBTAC Endorsed – Maternity Program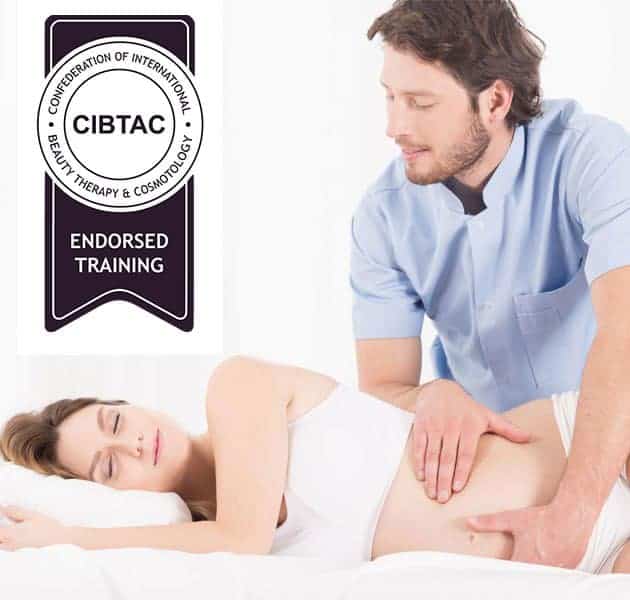 Learn more about CIBTAC Endorsed Courses