5 Days Slimming Massage Course
This Slimming Massage Course will give you all the theoretical and practical skills required to perform a treatment for your client's friends and family.
Price: $630.00
Pre-Requisite: Bali BISA Anatomy & Physiology  You can combine this course and enjoy a 10% discount.
Or E-Learning Anatomy & Physiology or CIBTAC Diploma in Anatomy and Physiology.
For flexible dates contact us at info@balibisa.com

Saturday and Sunday time to enjoy all the splendors Bali has to offer
"The Island of the Gods"  
Who is it for:
Students aiming to becoming Professional Spa Therapists.  Professional Spa therapists wanting to add to their portfolio of skills and adding CPD hours (Continued Professional Development) No previous experience necessary.
Price includes:
Coffee, tea, or water
Training Manual
60+mins Training Video
Clients for your practical sessions
All required products and Equipment
Exams: Theory & Practical
Bali BISA Certificate
Accommodation and Airport pick up available on request
Contact us for more information
Read more about Slimming Massage
Expand/Collapse this section
In a beauty obsessed world, it is no surprise that the word Slimming is appealing in itself, which is why Spas, Wellness Facilities and Retreats are adding it to their portfolios. Our Slimming Massage Course at Bali International Spa Academy teaches techniques based on the latest scientific evidence about the most effective massage movements to reduce inches in conjunction with diet and exercise. This is an excellent supplementary course for practitioners concentrating on holistic approaches to optimal well-being.
Students can supplement this core slimming massage course with an extra week of an information-packed course about diet, nutrition, exercise and customized body wraps. 10 days Slimming with Treatments
Massage therapy can work wonders for anyone who is trying to lose weight or toning the body. Regular massages are an excellent way to eliminate cellulite and other small fat deposits by breaking down subcutaneous fat and toning up your body and muscles. They also help to relieve muscle pain and injuries and enable you to keep up a regular exercise program. Last but not least, massages help to relax after an intensive day. There are many reasons why people may gain weight. Here are a few tips to get you to your goals of that trimer figure.
Movement and Exercise helps with weight loss
Healthy diet
A good night's sleep
Less stress 
Benefit of Slimming Massage
Expand/Collapse this section
A slimming massage is a pain-free treatment.
Improves soft tissue function
Improves blood pressure and heart rate
Helps decrease fatigue and stiffness.
Helps to reduce stubborn fat that is resistant to exercise easily.
Improves skin: more elastic so it becomes firmer. By doing exercise, the results are even better. With a slimming massage, you could see the results after a few sessions. Improved health. Being overweight is the cause of some health issues such as high blood pressure and diabetes. By eliminating fat from your body, these health issues will also be eliminated. Your health and performance will visibly improve.
What you will learn
Expand/Collapse this section
Health and safety.
Knowledge of the Anatomy & Physiology
Client care, communication and preparation.
Contra-Indications
Product and equipment required.
Massage techniques and application.
Aftercare
Career paths:  Health Wellness & Medical Centers, Gyms, spa Cruise Ships,
Progression:
CIBTAC Endorsed – Slimming Program Course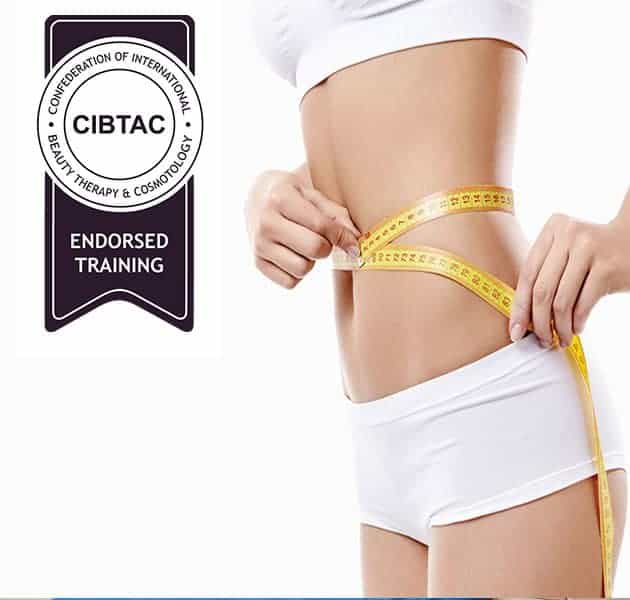 Learn more about CIBTAC Endorsed Courses