5 Days Bamboo Massage Course
This Bamboo Course will give you all the theoretical and practical skills required to perform a treatment for your clients  friends and family.  Please Note: You can purchase the Bamboo set from Bali BISA.
Price: $600.00
Add another 5 days course to your Hawaiian Lomi Lomi Course and enjoy a 10% discount on both courses
For flexible dates contact us at info@balibisa.com

Saturday and Sunday time to enjoy all the splendors Bali has to offer
"The Island of the Gods"  
Who is it for:  Students aiming to becoming professional Spa therapists. Novice Students wanting to learn for fun. Professional Spa therapists wanting to add to their portfolio of skills and adding CPD hours (Continued Professional Development) No previous experience necessary.
Price includes:
Coffee, tea, or water
Training Manual
60+mins Training Video
Clients for your practical sessions
All required products and Equipment
Exams: Theory & Practical
Bali BISA Certificate
Accommodation and Airport pick up available on request
Contact us for more information
Read more about Bamboo Massage
Expand/Collapse this section
Bamboo is found mainly in Asia, Africa and America and has more than 1,500 uses to date. Long before the paper was invented, the Chinese recorded their history on thin slivers of bamboo. Indeed, the Chinese have been using bamboo for more than 5,000 years. It is currently used in textiles, industry, water processing, landscaping and transportation. It is interesting to note that bamboo is found not only in hot, tropical climates but in cold, mountain climates. Chinese, Indonesian, and Japanese festivals, rituals, and myths abound with bamboo symbolizing life energy, prosperity, longevity, sexuality, and fertility. In China, stalks of bamboo still symbolize eternal youth, strength, prosperity, and peace.
Facts about Bamboo The Bamboo plant originates from Asia, South America & Africa but is now harvested all over the world. The plant matures fully in approximately seven years. Overall, there are more than 1,200 species of bamboo, all of them related to sugarcane and corn. Bamboo is, in fact, a giant grass: the bamboo stalk can be cut, leaving the root system intact for rapid regrowth. This makes bamboo a highly renewable resource. It can grow as fast as one foot in 24 hours and will grow back to full-size in a few years. In addition to its sustainability, bamboo is also recognized for its suppleness and resilience. Known for its strength and flexibility, bamboo lends itself to a variety of uses. Because of its hardness, bamboo has been used in many ways, structures, bridges, furniture & utensils. Part of what makes bamboo hard and straight, yet flexible and light, is the outer cell walls which are covered with silica making it wonderfully smooth and silky – ideal for this fantastic oriental massage technique.
What may seem like a new technique, bamboo massage, has ancient roots and perhaps deeper associations than simply bodywork. Today, bamboo massage is  the latest in exotic treatments or for massage therapists as a new tool, but bamboo can be seen as much more than a new trend. The massage uses bamboo cut in different sizes and shapes. The bamboo sticks are used as an extension of the therapists' hands, forearms, and elbows, enabling them to work deeper and more effectively.
Benefit of Bamboo Massage
Expand/Collapse this section
This powerful massage delivers
Circulatory system is stimulated.
It improves the muscular and nervous  system functions.
Improves lymphatic circulation, assisting the removal of fluids & toxins.
Stimulates cellular activity and repair and deeply nourishes the skin.
Assists lactic acid removal – reducing pain.
Can help to manage stress.
It can also help specific problems such as: leg aches, neck and shoulder migraines.
Helps with overall flexibility.
Balance and Inner wellbeing is improved and specific reflexology points are  activated. Skin is nourished and restored from the bamboo bio extract used throughout the massage. Bamboo massage therapy benefits women who have concerns of heavy tired legs or tight muscular problems, men who have an active sports lifestyle and require deep work to soften & break down muscular tensions. Great as part of a detox & weight loss program and ideal for linking with Sports massage.
What you will learn
Expand/Collapse this section
Health and safety.
Client care, communication and preparation.
Contra Indications
Product knowledge.
Massage techniques with and application.
Aftercare
Career paths:  Health & Wellness, Spa's Cruise Ships,
Progression
CIBTAC Endorsed Hawaiian Lomi Lomi Massage Course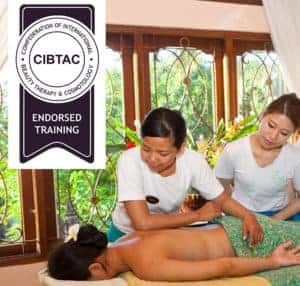 Learn more about CIBTAC Endorsed