5 Days Aromatherapy Course
This Aromatherapy Course will give you all the theoretical and practical skills required to perform a treatment for your clients  friends and family.
Price: $600.00
For flexible dates contact us at info@balibisa.com

Saturday and Sunday time to enjoy all the splendors Bali has to offer
"The Island of the Gods"  
Who is it for:
Students aiming to becoming professional Spa therapists. Novice Students wanting to learn for fun. Professional Spa therapists wanting to add to their portfolio of skills and adding CPD hours (Continued Professional Development) No previous experience necessary.
Price includes:
Coffee, tea, or water
Training Manual
60+mins Training Video
Clients for your practical sessions
All required products and Equipment
Exams: Theory & Practical
Bali BISA Certificate
Accommodation and Airport pick up available on request
Contact us for more information
Read more about Aromatherapy Massage
Expand/Collapse this section
Aromatherapy dates back 6000 years or more. The Greeks, Romans, and ancient Egyptians all used aromatherapy oils. The Egyptian physician Imhotep recommended fragrant oils for bathing, massage, and for embalming the dead nearly 6000 years ago. Imhotep is the Egyptian god of medicine and healing. Hippocrates, the father of modern medicine, used Aromatherapy baths and scented massage. He used aromatic fumigations to rid Athens of the plague.
The modern era of Aromatherapy dawned in 1930 when the French chemist Rene Maurice Gatte Fosse created the term Aromatherapy for the therapeutic use of essential oils. He was fascinated by the benefits of lavender oil in healing his burned hand without leaving any
scars. He started investigating the effects of other essential oils for healing and for their psychotherapeutic benefits.
During World War II, the French army surgeon Dr Jean Valnet used essential oils as an antiseptic. Later, Madame Marguerite Maury elevated Aromatherapy as a holistic therapy. She started prescribing essential oils as a remedy for her patients. She is also credited with the modern use of essential oils in massage.
Aromatherapy works on the basis that the aroma of the essential oils triggers the limbic system – the part of the brain that seems to
be linked with emotion. This is why it can affect how you feel, and help you relax. Massage helps your skin to absorb warmed essential oils; these oils improve the effectiveness of the massage in treating specific physical problems. Aromatherapy uses warm essential oils to activate your sense of smell and increases your sense of well-being.
The oils can be used in many other ways for example:  Dropped into the water for you to bathe in, Blended with other oils, Used in steam for inhalation, Used in burners for your sense of smell, Can be used for older people with dementia to relieve distress, aids sleep patterns, (insomnia) or sleeping for too long.
Benefit of Aromatherapy Massage
Expand/Collapse this section
Helps you to relax
Relieves tiredness or aching muscles and rheumatic pains
 Improves flexibility
Soothes chronic pain
 Improves skin tone
Aides concentration
Digestive disorders
PMS, menopausal complaints and postnatal depression.
Colds & Flu
Relieves stress and anxiety
What you will learn
Expand/Collapse this section
Health and safety.
Client care, communication and preparation.
Contra-Indications
Product knowledge.
Massage techniques with and application.
Aftercare
PLEASE NOTE: This course focuses on massage and blended oils only due to the shortness of time. If you want to do a depth course for the oils then you can extend this to 10 days or check out the VTCT or CIBTAC courses.
Career paths:  Health & Wellness, Spa's Cruise Ships,
Progression
VTCT level 3 Diploma in Massage Therapy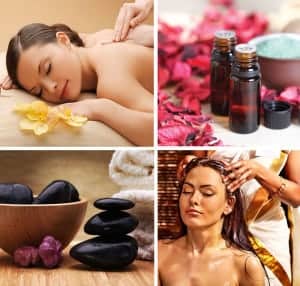 Learn more about VTCT   ITEC  CIBTAC