As a spa professional, you spend countless hours taking care of your clients. However because the work you perform can place stress on both body and mind,self-care for spa professionals is equally important. "When you put your own health on the back burner, it won't be long before your business is affected," says Los Angeles-based beauty consultant Sarah Elaine Moore. "Not a day goes by that I'm not reminded of the importance of taking care of myself, and I have yet to meet an esthetician or makeup artist who doesn't feel the same way." From eye strain to emotional angst, the list of potential health concerns can be extensive. But lucky for you, self-care for spa professionals doesn't have to be difficult.
Self-Care for Spa Professionals Tip 1 – Save Your Sight
Being able to see clearly is crucial—especially when you perform aesthetic services—and taking a few preventive measures can ensure a long-lasting career. First, visit your eye doctor annually to keep tabs on changes in your vision that may need to be addressed with stronger prescriptions, says Leah Lynch, owner of Beautique Salon & Spa in Newburyport, Massachusetts.
The right lighting is also essential. "An esthetic loop or makeup artistry ring light with full spectrum bulbs are the best choices and should be used directly over or in front of the client," says Lynch. "Avoid fluorescent bulbs as they have a flicker that isn't necessarily perceived by the naked eye, and they can cause fatigue or vertigo over time. Much like trying to use a computer in the dark, doing detailed work with just your loop while the lights in the room are off can also be tough on the eyes. It's important that your regular overhead lighting within the room is adequate and turned on in addition to your loop light while performing waxing, eyelash extensions or other detail-oriented services."
Another self-care for spa professionals related tip from Lynch id to should shield the eyes during clients' LED therapy. "If you, the operator, can see the LED lights, then you should be wearing a pair of laser goggles to protect your vision," she says.
Self-Care for Spa Professionals Tip 2 – Get a Grip
Strong hands and nimble fingers are essential to executing a wide range of spa services. "Our hands are our money-makers!" notes Moore. But many of the movements that beauty and bodywork pros perform can lead to pain, cramps and even carpal tunnel syndrome. "Believe it or not, a lot of aches and pains in your hands and wrists come from tightness and poor alignment farther up in your shoulders and neck, so the best thing you can do for your hands is take care of your spine by prioritizing posture," continues Moore. "I recommend taking time between each client to deeply inhale and exhale; as you do so, listen to your body and see if the moment calls for anything, like a shoulder roll or a quick dance party to move around stuck energy."
Another self-care for spa professionals piece of advice from Lynch is to practice mindfulness. "Always be aware of your body positioning, ergonomics and the pressure you're applying to clients during services to avoid injury or strain," she notes. Because most long-term wrist injuries are due to repetitive movements, she adds that a diverse book of service offerings is ideal, so you're not using the same muscle groups for extended periods of time.
For those providing treatments that are a little tougher on the hands and wrists, such as massage therapy, it's good to perform hand and wrist exercises and stretches daily. "Get a stress ball to squeeze regularly," suggests Lynch, who also offers these stretch suggestions: Extend your arms out straight, point your fingers to the ceiling, then to the floor, then interlace your fingers and push your palms outward, and finish with some wrist circles.
Self-Care for Spa Professionals Tip 3 – Don't Be a Slouch
An International Journal of Environmental Research and Public Health study found chronic low back pain to be the most frequently reported musculoskeletal complaint resulting in doctor visits and job absenteeism among more than 100 estheticians, massage therapists, cosmetologists and beauticians. Further, an International Journal of Therapies and Rehabilitation Research study of massage therapists found lower back pain to be the most common disorder resulting from bending and sitting, as well as from working for at least six hours a day or for more than eight years in the industry. To mitigate such issues, the positioning and dimensions of furniture and equipment—including the setup of treatment beds—is key. "If the bed is too low, you have to hunch over to reach the client, and if it's too high, you'll strain," points out Lynch.
Moore emphasizes the importance of strengthening your core muscles (she suggests Pilates, weight training and yoga), as well as maintaining proper posture. "When sitting, avoid tucking or tilting your pelvis underneath you—instead, hinge at your hips to reach your client. Sit up straight, stand tall and focus on distributing your weight evenly throughout your body," she advises. Finally, avoid sitting in the same position for long periods of time. "It's so important to move around between clients," says Lynch in relation to self-care for spa professionals.
Self-Care for Spa Professionals Tip 4 – Clear the Air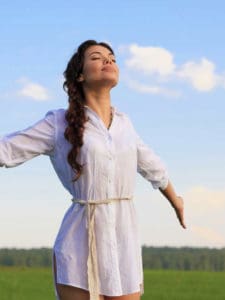 Although not specific to one category of beauty professional, a report by environmental health advocacy group Women's Voices for the Earth found that breathing problems are the second most common type of health concern among salon workers, after skin conditions. "Chemical peels, lash extensions, nail services, and hair coloring, straightening and perming can all produce fumes," notes Lynch.
The aforementioned report recommends ensuring adequate ventilation by opening doors and windows whenever possible; installing a ventilation system with external exhaust and the ability to make multiple air changes per hour; installing a built-in local exhaust fan near work stations; stocking less toxic products; and using respirators with organic carbon chemical cartridges, or N95 respirator dust masks.
Another self-care for spa professionals idea is to use products designed to absorb adhesive vapors and fumes. "We have a 15-inch exhaust fan pulling the air from the room and recirculating, plus a high-powered HEPA air purifier and six windows that can be opened if necessary," says Lynch. "Staff members wear carbon filter face masks while working with clients, and we have a Whisper Salon Source capture system for chemical hair processes and guests who have more serious fume sensitivities."
Self-Care for Spa Professionals Tip 5 – Check Your Head
Even when you love your job, stress can creep in. "It takes a lot of energy to be of service to people—you have to be a graceful master of managing different personalities and needs," says Moore. "Sometimes it may feel that you're absorbing your clients' moods, but with practice you can become the dominant force of peace in the room, and stressed-out people will adjust to you." That's a big reason Lynch suggests sticking to uplifting topics when talking with spa-goers. "Avoid going down the path of gossip or complaining," she says. "Not only will you feel better and more refreshed at the end of the day, but your clients will leave in a more positive frame of mind."
When you're not working, use that time to recharge. "Do something indulgent—physically, spiritually and with intention," says Ria Hountas-Hart, BSN, RN, owner of Lashtique in New York City, who recommends getting massages regularly. Adds Moore: "There are a lot of ways to achieve peace—for me, nothing beats waking up and starting the day with meditation." Indeed, when your mind is clear and calm, you'll be better able to care for your clients and yourself, leading to the ultimate in personal and professional success and satisfaction.
For more information about self-care for spa professionals, especially massage therapists, please read Penny's own blog about self-care.