5 Days Balinese Traditional Facial Course
This Balinese Traditional Facial course will give you all the theoretical and practical skills required to become a professional Spa Therapist, or just as a treat to friends and family
Price: $600.00
Schedule: Monday to Friday, 9:00am-4:00pm 
Flexible dates contact us at info@balibisa.com
Saturday and Sunday time to enjoy all the splendors' Bali has to offer
"The island of the Gods"  
Who is it for:
Students aiming to becoming professional Spa therapists. Novice Students wanting to learn for fun. Professional Spa therapists wanting to add to their portfolio of skills and adding CPD hours (Continued Professional Development) No previous experience necessary.
Price includes:
Coffee, tea or water
Training Manual
Clients  for your practical sessions
60 minsVideo
All products and equipment required
Bali BISA Certificate
Accommodation and Airport pick up available on request
Contact us for more information
Read more about Balinese Facial
Expand/Collapse this section
This 5-day Traditional Balinese Facial course in Bali learn the theoretical & practical skills to give professional facials with natural ingredients.
For centuries without the intervention of modern creams, Asian women were known for their beautiful skin and faces. They used different kinds of fruit extracts to slough off dead skin cells, fight acne, and replenish moisture to nourish their skin. Many natural beauty preparations stem from the palaces in Central Java where princesses spent their youth learning and preparing them for their own use.
Following their lead, more and more savvy customers are realizing that chemical free products provide optimum anti-aging results for their face. Bali BISA teaches how to prepare natural ingredients commonly found in the kitchen (for example, cucumbers, candle nuts, avocados, limes, bananas, eggs and honey) that have traditionally been used in Southeast Asia for cleansing, exfoliating, toning and moisturizing the skin. Proper application techniques are regularly practiced, so students are ready to apply the skills in the commercial world.
Students also learn the fundamentals of the skin, the body's largest organ.  They are able to advise students about post-facial best practices to help skins age with grace with a few simple steps: fresh air, adequate sleep, a high water intake, relaxation and a diet high in fruit and vegetables and low in processed foods.
Career paths:  Health & Wellness, Aesthetic Beauty clinics, Cruise Ships
Progression
CIBTAC Endorsed Balinese Traditional Spa Rituals Course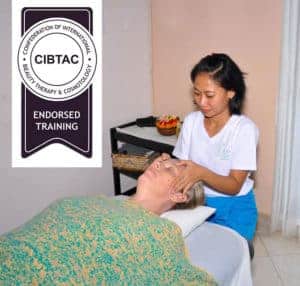 Learn more about CIBTAC Endorsed