5 Days Hot and Cold Stone Massage Course
This Hot and Cold Stone Massage will give you all the theoretical and practical skills required to perform a treatment for your clients friends and family.
Price: $630.00
For flexible dates contact us at info@balibisa.com

Saturday and Sunday time to enjoy all the splendors Bali has to offer
"The Island of the Gods"  
Who is it for:
Students aiming to become professional Spa therapists. Novice Students want to learn for fun. Professional Spa therapists wanting to add to their portfolio of skills and add CPD hours (Continued Professional Development) No previous experience necessary.
Price includes:
Coffee, tea, or water
Training Manual
60+mins Training Video
Clients for your practical sessions
All required products and Equipment
Exams: Theory & Practical
Bali BISA Certificate
Accommodation and Airport pick up available on request
Contact us for more information
Read more about Stone Massage
Expand/Collapse this section

Many ancient civilizations exploited the medicinal and spiritual powers of stones for therapeutic purposes and for centuries stones have been used for healing. If you break open these basalt stones you will see tiny crystals inside and it is these which give the stones their energy. Bali's famous Mount Agung is considered by the Balinese people to be the "Mother Mountain". They believe she balances and grounds their lives to bring harmony. The basalt stones used in this massage course come from the rivers and streams surrounding Mount Agung.
Benefit of Stone Massage
Expand/Collapse this section
Stimulates: the circulatory system: hot stones provide a long-term benefit. Too much heat causes depletion of the blood.
Helps with detoxification: stimulating the lymphatic system, liver and kidneys to flush out the toxins.
Balancing: placing stones on the chakra centres of the body provides balance.
Energising: there are tiny crystals inside the stones, giving off energy.
Deep tissue work: the hot stones relax the muscles, enabling the therapist to work at a deeper level in the tissues. Excellent for sports injuries. Good for sufferers of multiple sclerosis (MS), rheumatism and arthritis (stiff joints).
Relaxing: the massage is completely pain-free and so relaxing that many clients fall asleep during the treatment.
Reduces: inflammation and pain (e.g., back, neck and shoulder pain), stress, insomnia and depression.
What you will learn
Expand/Collapse this section
Health and safety.
Client care, communication and preparation.
Contra-Indications
Product knowledge.
Massage techniques with and application of the stones.
Aftercare
Career paths:  Health & Wellness, Gyms,  Cruise Ships,
Progression: 
CIBTAC Endorsed Warm Stone & Crystal Therapy Course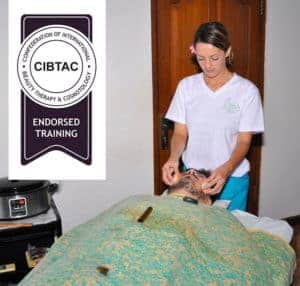 Learn more about CIBTAC Endorsed
CONGRATULATIONS
In just five days anyone can learn the "Hot & Cold Stone Therapy"