10 Days Sports Massage & Treatments Course
This Sports Massage Course will give you all the theoretical and practical skills required to perform a treatment for your client's friends and family.
Price: $1200.00
Pre-Requisite: Bali BISA Anatomy & Physiology  You can combine this course and enjoy a 10% discount.
Or  E-Learning Anatomy & Physiology  CIBTAC Diploma in Anatomy and Physiology.
For flexible dates contact us at info@balibisa.com

Saturday and Sunday time to enjoy all the splendors Bali has to offer
"The Island of the Gods"  
Who is it for:
Students aiming to become Professional Spa Therapists.  Professional Spa therapists wanting to add to their portfolio of skills and add CPD hours (Continued Professional Development) No previous experience necessary.
Price includes:
Coffee, tea, or water
Training Manual
60+mins Training Video
Clients for your practical sessions
All required products and Equipment
Exams: Theory & Practical
Bali BISA Certificate
Accommodation and Airport pick up available on request
Contact us for more information
Read more about Sports Massage
Expand/Collapse this section
Sports massage appeared in earlier periods of history when the ancient Greeks and Romans combined massage and exercise in their athletic training.
With fitness in focus nowadays, enrolling in Bali BISA's Sports Massage course will lead to a fulfilling career in the dynamic health, wellness and spa field.
It is not surprising that in a society where sports and fitness are integral elements of a contemporary lifestyle a sports massage certification would be in high demand by spas and wellness centres.  Athletes and people simply suffering from overworked muscles from daily activities increasingly turn to skilled sports massage practitioners who intimately understand how to alleviate the stress and tension stored in tissues via massage to the overall muscular–skeletal system and localized problem areas.  Regularly used, sports massage can also help prevent injuries.
A Sports Massage Therapist is a professional who uses massage techniques to treat and care for athletes who are suffering injuries or pain. They work with their clients on rehabilitation processes, aiming to reduce pain, inflammation, long-term impact, discomfort or the risk of injuries occurring again
Sports massage therapy is also known as athletic massage therapy or Sports Medicine Massage. It's a type of therapy aimed at decreasing the tension and stress that can develop in the soft tissues of the body during sports and various exercises. Unlike some types of therapeutic massage that are performed after an activity, sports massage therapy is also performed before and during the training or activity.
Sports Massage Therapy can help reduce stress on the body. It can also improve athletic performance and increases endurance. Sports and massage therapy are very similar to deep tissue massage and therapeutic massage. A sports therapeutic massage focuses on the muscles and tissues within the body. It may cover the entire body or a specific part of the body.
Benefit of Sports Massage
Expand/Collapse this section
Helps program sleep and relaxation
Increases the athlete's range of motion
Improves soft tissue function
Helps athletes recover from injuries
Helps with the routine stress from competing and training
Improves the athlete's overall performance
Helps athletes monitor their muscle tone
Improves blood pressure and heart rate
Helps decrease fatigue and stiffness
What you will learn
Expand/Collapse this section
Health and safety.
Knowledge of Anatomy & Physiology
Gyratory Vibration  (G5)
Hot & Cold Stone applications.
Audio Sonic
Infra-Red
Client care, communication and preparation.
Contra-Indications
Product and equipment required.
Massage techniques and application.
Aftercare
Career paths:  Health Wellness & Medical Centers, Gyms, Spa, Cruise Ships,
Progression: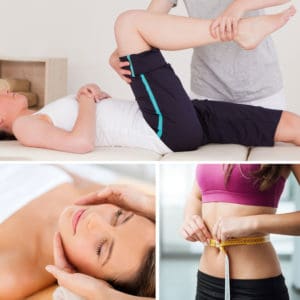 CIBTAC Diploma in Anatomy and Physiology
35 Days Advanced Slimming, Sports & Lymphatic Drainage Course Package