5 days Aesthetic Facial Specialist
This 5 days Aesthetic Facial Specialist course will give you all the theoretical and practical skills required to be able to offer facials at a professional level. or just as a treat to friends and families.
Price: $650.00
For flexible dates contact us at info@balibisa.com

Saturday and Sunday time to enjoy all the splendours Bali has to offer
"The Island of the Gods"  
Who is it for?
Anyone who wants to master the art of giving facials.  No previous experience is necessary.
Price includes:
Coffee, tea, or water
Training Manual
60+mins Balinese Massage Training Video
Clients for your practical sessions
Equipment & Products required
Exams: Theory & Practical
Bali BISA Certificate
Accommodation and Airport pick up available on request
Contact us for more information
Read more about Aesthetic Facial Specialist
Expand/Collapse this section
Aims and Objectives:
The aim of this course is to enable learners to gain the necessary practical and theoretical skills and knowledge required to become a Facial Specialist.
Introduction: The Aesthetic industry is an exciting and profitable market. Would you like to change careers? Or add a new modality to your portfolio. If you have a passion for skin and you love seeing instant results to help people feel good about themselves,
Then this is the facial course for you!
Thanks to modern facial skin care technology, the effects of ageing on the skin caused by genetics, lifestyle, and stress no longer have to be accepted as permanent. A facial can also help with many problems such as reducing wrinkles, fine lines, skin problems such as acne and rosacea, blackheads, and other skin impurities, shaving, and environmental factors. Having a quality and professional facial treatment done, whether routinely or on a more infrequent basis, will refresh the skin, leaving it feeling refreshed and looking younger than you would have thought possible.  It takes a specialist with thorough training to establish a strong reputation and retain customer loyalty.  The Bali International Spa Academy known as Bali BISA is recognized globally for its professional training in a warm, friendly atmosphere.  You will have many chances to practice on our models to refine your techniques Skin Care Specialists are trained in skin wellness, helping their clients balance oil and moisture content and achieve a healthy, youthful complexion. As well as various facial treatments they are also skilled in managing conditions such as acne, rosacea, eczema, and dry skin, to name just a few. Let's not forget skin care treatments are wonderfully relaxing and rejuvenating
Benefit of Ladies Facial
Expand/Collapse this section
Here are the top four reasons facials are SO beneficial for Ladies.
Impurities: Facials can balance skin, remove impurities example: blackheads, and cleanse pores, making your skin look and feel healthier. Most Estheticians will perform extractions during a facial, which is the very precise removal of oil and dirt that's clogging pores. Doing this by yourself at home risks serious skin damage; but in the right hands, the result is clean, clear skin.
Wrinkles: Everybody wants to look younger. With so many muscles working in our faces as we express ourselves, converse, and squint in sunlight, wrinkles start to appear even in our 20s. While wrinkling is a natural part of the ageing process, proper skin care, which includes facials, can alter the usual and sometimes harsh ageing the body will undergo. Getting a proper facial treatment can ease the wrinkling process.
DE-Stress:  Seems like the most obvious one, doesn't it? Stress is a killer and we must do all that we can to avoid it. Plus, you never really get how much stress we hold in our faces until you have someone working on our faces for 60 minutes. With regular facials, you will see a big improvement in your skin condition.
Smooth's Crow's Feet: These are the wrinkles that extend horizontally from the corners of your eyes and are associated with age; old men have Crow's Feet – GQ models do not. Regular facials include massage of the entire face, including the muscles around the eye. When these muscles are worked, they become more "taut and toned, which lessens the contrast effect of Crow's Feet.
What you will learn
Expand/Collapse this section
This Facial Skin Care Program is a qualification that has been specifically designed to develop your practical skills in grooming and skin care.
Facial cleansing using cleansers and exfoliating products
Facial examination and skin analysis
Usage of different products and their benefits for different skin types
Steaming & Extraction
Selection, mixing and application of different types of face masque
Full facial massage routine
Face, neck & shoulder massage
Shaping (tweezing) eyebrows
Health and safety.
Client care, communication and preparation.
Client consultation for facial treatments
Anatomy and Physiology of the face and Neck
Contraindications and contra-actions
Aftercare
Career paths:  Health & Wellness, Aesthetic Beauty clinics, Cruise Ships
Progression: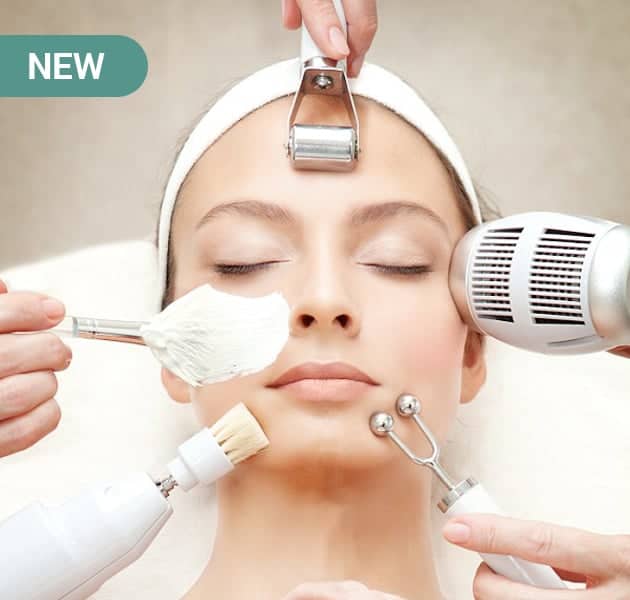 In just five days anyone can master the art of becoming a Facial Aesthetics Practitioner.
    CONGRATULATIONS