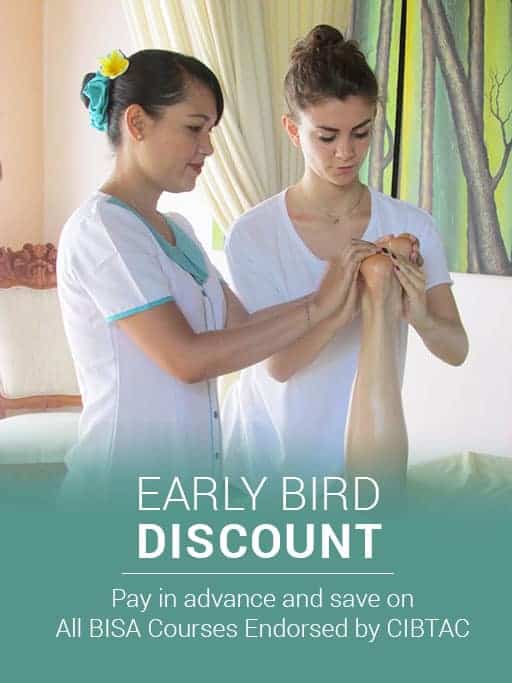 Pay in advance and save on holistic BISA courses Endorsed by CIBTAC and a 5-day BISA course in anatomy and physiology.
8 Week Prepayment – 10% savings
Discount only available on non discounted courses.
Discounted Package courses will not be eligible for this discount.
Bali BISA is an award-winning, student-focused spa, massage, beauty and wellness training centre located in the beachfront community of Sanur. They were the first spa school to have their eleven most popular courses endorsed by CIBTAC, one of the world's leading awarding organizations
These courses give you many advantages;
CIBTAC certification are highly regarded worldwide qualifications which can give you a significant career edge with quality employers.
Anatomy and physiology knowledge is increasingly accepted by four and five star spas and wellness centres.  You will receive five days of intensive study to enable you to provide bodywork suited to the needs of each client.
Bali BISA tutors are truly compassionate and caring. They want their students to be successful.  And they will share with you their unique Hindu culture which sets Bali apart from other island destinations.
The Bali BISA curriculum has been adapted and refined over 10 years.  It provides  a step by step guide and you can always refer back to your training manual to refresh.
IT'S A WIN-WIN.  CIBTAC QUALIFICATIONS AT A DISCOUNTED RATE.
Payments can be made by Paypal or bank transfer.  Fees are the responsibility of the student.
VISA and Mastercard are also accepted with a 4% surcharge.
Please note that the early bird discount does not apply to optional services provided by Bali BISA such as accommodation, airport transfers, uniforms, DVD's and visa sponsor letter.