20 Days Balinese Traditional Spa Rituals Course
This 20 Days Balinese Traditional Spa Rituals Course will give you all the theoretical and practical skills required to perform a treatment for your client's, friends and family.  You can combine the Bali BISA Anatomy & Physiology and enjoy a 10% discount.
This 4-weeks Traditional Balinese Spa Therapy course at Bali BISA, covers Balinese massage, natural facials, Indonesian hair cream baths, body scrubs and body wraps. A great way to immerse yourself in Balinese culture.
Or  E-Learning Anatomy & Physiology or CIBTAC Diploma in Anatomy and Physiology.
Price: $2040
Course Dates
Start Date September 19th, 2022 – End Date October 21st, 2022
Start Date October 24th, 2022 – End Date November 18th, 2022
Start Date November 21st, 2022 – End date December 16th, 2022
Start Date January 9th, 2023 – End date February 3rd, 2023
Schedule: Monday to Friday, 9:00am – 4:00pm
Saturday and Sunday
Time to enjoy Bali "The island of the Gods" 
Package Details
Please click the link for each course below for more details
Balinese Traditional Spa Rituals
Who is it for:
Students aiming to becoming Professional Spa Therapists.  Professional Spa therapists wanting to add to their portfolio of skills and adding CPD hours (Continued Professional Development) No previous experience necessary.
Price includes:
Coffee, tea or water
Training Manual
Clients for your practical sessions
All required equipment and products
Bali BISA Certificate
Accommodation and Airport pick up available on request
Contact us for more information
CIBTAC Endorsed – Balinese Traditional Spa Rituals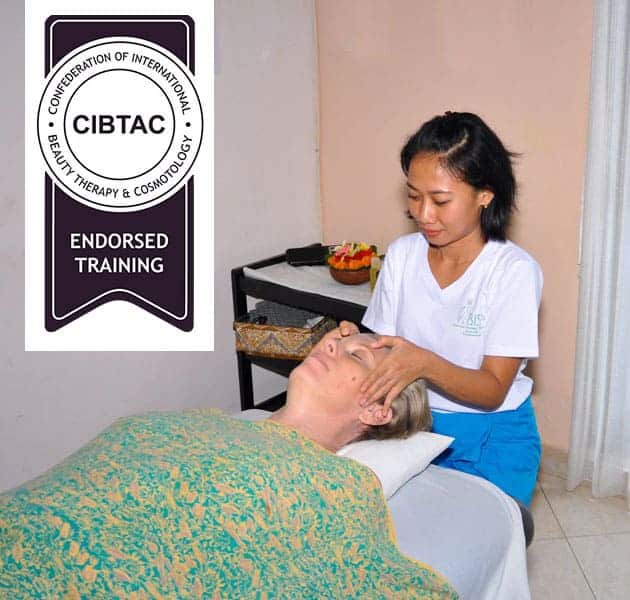 Learn more about CIBTAC Endorsed Courses